An important B-school experience, case competitions and business simulations bring students an opportunity to battle it out with other competing B-schools and prove their mettle, while also strengthening personal and professional networks
One of the most interesting experiences of B-school life is fighting it out in interschool case competitions and business simulations. Management schools across the world swear by the effectiveness and relevance of these case competitions in ensuring the learning and development of students. Not only do case comps (as they are popularly called) give students a chance to apply the core business concepts learned in the classroom, but some also come with a massive upside of Pre-Placement Interview (PPI) or Pre-Placement Offer (PPO) opportunity by the partner company for the winning teams!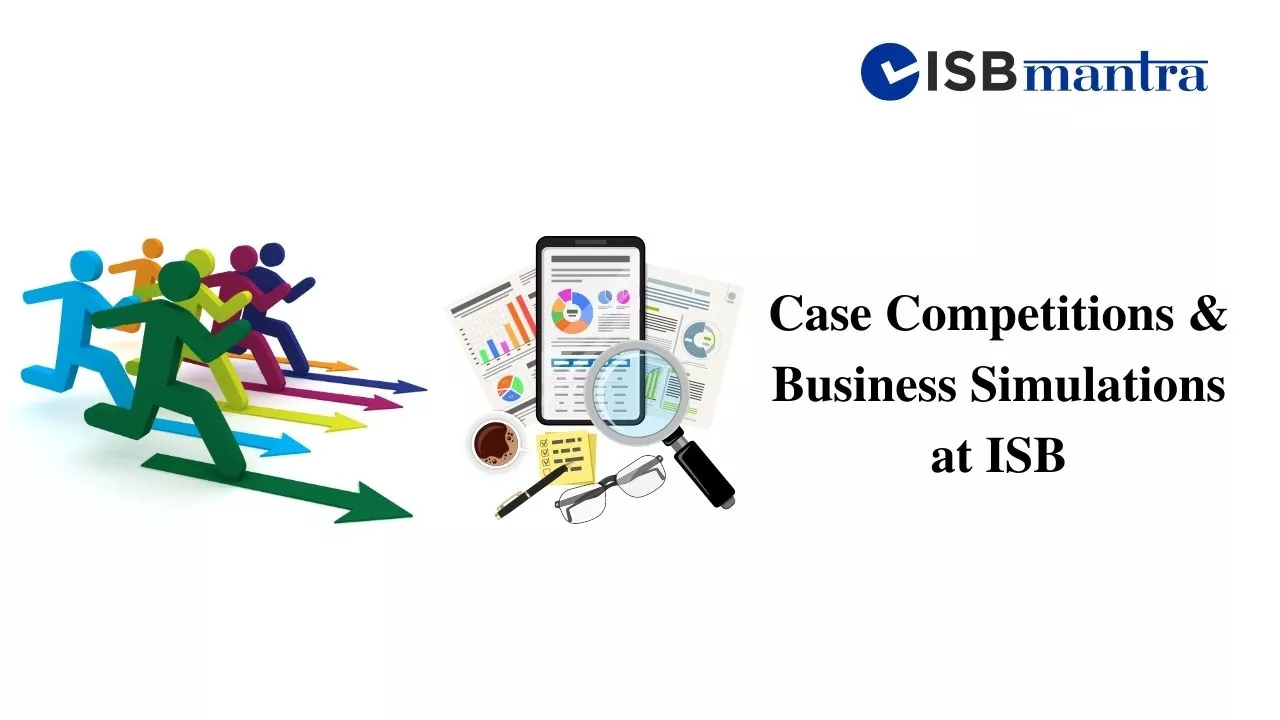 ISB students, often with Dare2Compete (D2C) as an intermediary, are exposed to a multitude of opportunities to showcase their talent and edge over other b-schools like IIM – A/B/C, XLRI, NUS & NTU, Singapore among others in the form of these competitions. The grand finales of these competitions present a great networking occasion to students, while also contributing as a major spike on their resume before the placements.
POPULAR COMPETITIONS AND SIMULATIONS
Most popular amongst ISB students is a business simulation called 'Stratos' sponsored by the prestigious Aditya Birla Group (ABG). ABG Stratos attempts to test student's understanding across the entire business spectrum – strategy, marketing, finance, operations, etc. Teams of three are given a specific business scenario and are tasked to decide how much to produce, when to produce, how to deal with crisis, how to manage finances; and the results reflect on their stock price by the end of the competition. It is an extremely competitive and hectic simulation, with 6 back-to-back rounds – all in just 72 hours!!
Campus winners are then required to present their learnings and findings in a ppt to finally battle it out on the national level with other teams
Another popular case comp is L.I.M.E. by HUL. Unilever is a dream company for the majority of marketing aspirants, thus rendering L.I.M.E. even more important for these candidates. It is very intensely contested amongst all leading B-school students, with the finale also being telecast on CNBC-TV18. Students can participate in teams of 3 and are given up to four weeks to compile and present their analysis and ideas for the given problem. L.I.M.E especially challenges participants with its unique requirement of submitting all ideas + analysis in a single PowerPoint slide, where less, definitely becomes more!
HULT Prize is one of the largest and most prestigious annual b-school competitions across the world, witnessing participation from over 121 schools globally. Themed around addressing pressing social issues, the competition challenges participants to come up with sustainable solutions and offers the US $1 million dollars as seed capital to the winning team. In fact, a team of 4 students from ISB batch of 2014 became the first Indian team to win the HULT challenge for their idea to address the issue of Non-Communicable Diseases and received the one-million-dollar funding from Bill Clinton himself.
RB Global Challenge in another esteemed global ideation competition which aims to encourage social entrepreneurship amongst b-school students. The competition is divided into 2 preliminary rounds. The first round is a business simulation that tests the agility of teams, while the second round invites scalable and financially viable ideas that address critical issues of hygiene, wellness, or nourishment. The shortlisted teams from Round 2 battle it out in the regional finale, with the national winners getting to represent the country at the Global Finale in London.

Trivia: A team of 3 students from ISB co'2020 were national winners of the RB Challenge 2019 and took home a prize money of INR 10 lakhs.
ISB students have left an indelible mark on a host of IIM-A competitions like Blitzkrieg, Kotler's Conundrum, Armageddon, and Exchequer year after year. All these competitions are organized by IIM Ahmedabad as part of their Red Brick Summit
Other popular competitions are Google Case Challenge, L'Oréal Sustainability Challenge, Mahindra War Room and Microsoft PM Challenge. The real-world learning edge offered by these case competitions is unmatched, but ISB adds a new dimension to this learning in the form of its own in-house student organized management festival called ADVAITA. Introduced only in 2013, it has grown leaps and bounds in the last 7 years witnessing enthusiastic participation from 40+ management schools across the world.
A complete list of case competitions and business simulations that ISB students have participated in, is shared below.
| | |
| --- | --- |
| ABG Stratos | Indegene Pioneer 2019 |
| Accenture B-school Challenge | Infosys Ingenious 2019 |
| Airtel iCreate 2019 | Johnson & Johnson QUEST |
| Amazon Customer Excellence Challenge 2019 (ACE) | L'Oréal Sustainability Challenge 2019 |
| Bajaj ATOM Season 2 | LAPIS Compounders Contest |
| CFA Institute Research Challenge 2019 | Lodha Soar For More |
| Colgate Transcend 2019 | Mahindra War Room Season 12 |
| Confederation of Indian Industry Genesis 2019 | MAQ Software – Case Study Competition |
| Danaher Excelerate Case Competition | MFine.co – ISB Case Competition |
| EXL Analytics Acumen 2019 | Microsoft PM Challenge |
| Flipkart WiRED 3.0 | Mondelez The New Normal- Supply Chain Strategy Competition |
| Google Case Challenge | Myntra Jabong – Myntra Stylbiz challenge |
| Hero Campus Challenge | Nat Geo Student Leader |
| Hindu Business Line on Campus Boardroom Challenge | Nestlé Business Case Challenge 2019 |
| Honeywell India Product Case Competition | Ninjacart HUSTLE 2019 |
| HUL FinAce | Novartis Biotechnology Leadership Camp (BioCamp) |
| HUL LIME 11 | OLA Campus Connect Challenge |
| IIM A – Blitzkrieg, Red Brick Summit | Optum Stratethon |
| IIM A – Exchequer – Red Brick Summit | P&G CEO Challenge 2019-20 |
| IIM A – Kotler's Conundrum – The Red Brick Summit, IIM A | P&G Emerging Leaders Program |
| IIM A – PM Live (The Red Brick Summit) | Paytm – Next 100 Mn Paytm Users! |
| IIM A – The Red Brick Summit – Armageddon 2019 (Consulting Case Competition) | Piramal Tangram |
| IIM A – Tradecraft | PwC- Case Competition |
| IIM A Masterplan | RB Global Challenge 2019 |
| IIM B – Deal Pro 2019 | RBS India : Case Study Challenge |
| IIM B – El Politico | Reliance Industries Limited TUP ConQuest |
| IIM B – Impact Investor | Samsung E.D.G.E |
| IIM B – Markguru | Schneider Electric Global Student Competition |
| IIM B – Techminator | Splash Math Product Case Competition |
| IIM B – Trojan Horse | Venture Capital Investment Competition |
| IIM B – Turn it Around | Virtusa Business Cipher Challenge |
| YML Product Challenge | Yes Bank Transformation Series |
Source: Competitions at ISB
More resources:
About ISBmantra
With a strong focus on ISB and a team of Former ISB Admissions Officers onboard, ISBmantra offers personalized Application Consulting & Interview Prep services. Feel free to send your profile to info@isbmantra.com for a free profile evaluation.