ISB follows a "One School, Two Campuses" approach with its state-of-the-art, sprawling campuses across Hyderabad and Mohali. We bring you a detailed piece busting the myth around differences between two campus and elaborating on their cultural uniqueness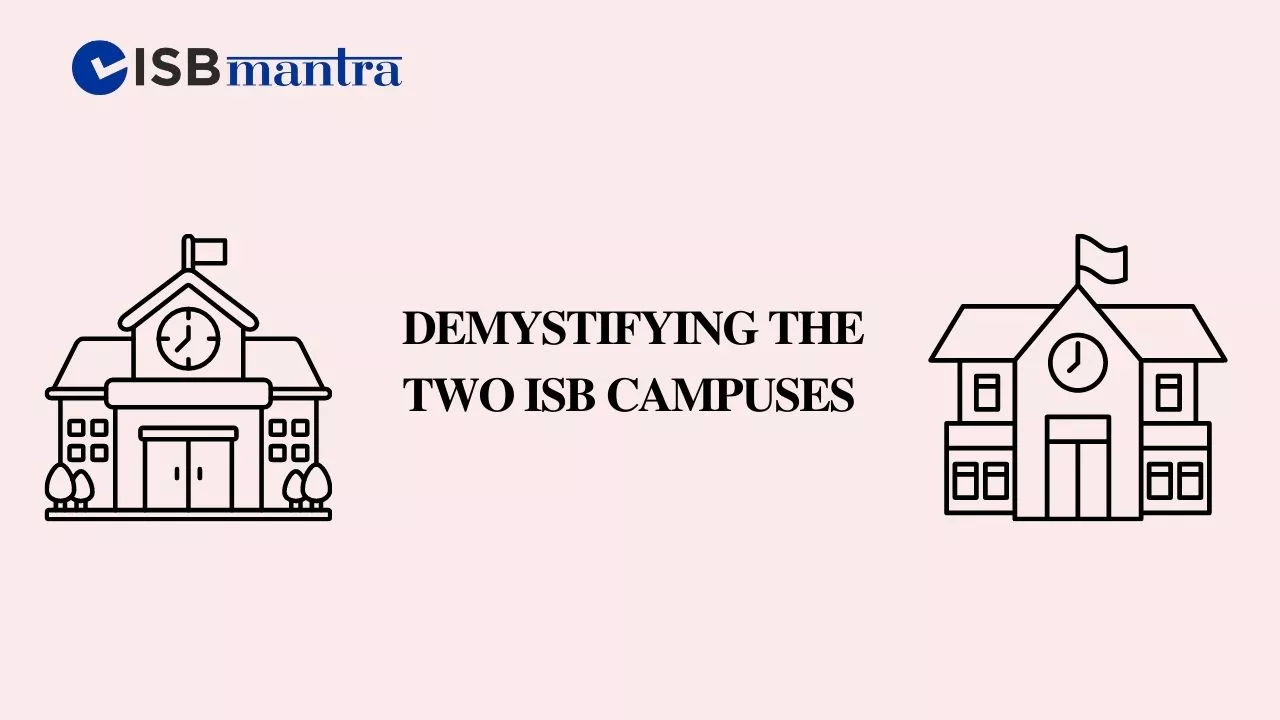 "One School, Two Campuses" is the mantra implemented in letter and spirit for ISB PGP candidates across both Hyderabad and Mohali campus since day one. Everybody within the ISB family is well aware of the architectural and cultural uniqueness of both campuses, and also understands that both campuses are at par in terms of academic and extra-curricular prowess. However, same isn't true for the general public at large. They often tend to believe that Hyderabad is the base campus and Mohali an independent secondary one.
To bust the myth, we have we have put together a detailed overview breaking down the life and amenities at both campuses –
CAMPUS
Both Hyderabad and Mohali have to their credit a state-of-the-art ISB campus enveloped in lush green natural beauty. ISB Hyderabad Campus was inaugurated in 2001 while Mohali Campus was founded in 2012 after increasing demand from MBA aspirants in the country.

The Hyderabad Campus is spread over 260 acres and has a classic signature sandstone construction. Housed in the middle of the campus is the Academic Centre, a towering 5-floor building which includes Lecture Theatres (LTs), classrooms, faculty offices, Learning Resource Centre (ISB Library) and a 500-seat auditorium named Khemka. One of the most picturesque and iconic locations of the ISB Hyderabad campus is its open-air courtyard on the ground floor, referred to as the atrium. It is a common meeting place for students to catch-up, have study group sessions or brainstorm about upcoming events. It is also where most events and festivals are celebrated and is a delight to walk through during the monsoon season. The atrium is surrounded by Goel's (popular in-school food court), merchandise store, mailroom, stationery shop and other juice and café pop-ups.
The newly built Mohali campus is more modern in its construction and feels. It is a self-sustaining campus spread over 70 acres and was designed by famous New York-based international architecture firm, Perkins Eastman. In fact, Mohali campus meets the famous LEEDS gold sustainability criteria with fixtures like rainwater harvesting, energy-efficient mechanical and electrical fittings etc that minimize the carbon footprint. Similar to the Hyderabad campus, Mohali campus also has a central academic block called Academic Square, but it brings together separate buildings under a common parasol roof. The Academic Square is connected to the Administrative Block (faculty and staff rooms) via the atrium, which is a central open and extremely airy space where students spend most of their free time. ISB Mohali also has to its name four institute partnerships, namely Max Institute of Healthcare Management, Munjal Global Manufacturing Institute, Bharti Institute of Public Policy and Punj Lloyd Institute of Physical Infrastructure Management.

The most iconic and arguably student favorite location of Mohali campus is the infinity corridor – a uniquely designed passage lined with stunning columns on both side – it connects the academic square to the food court, student café and leads to in-campus merchandise and stationery stores amongst other facilities.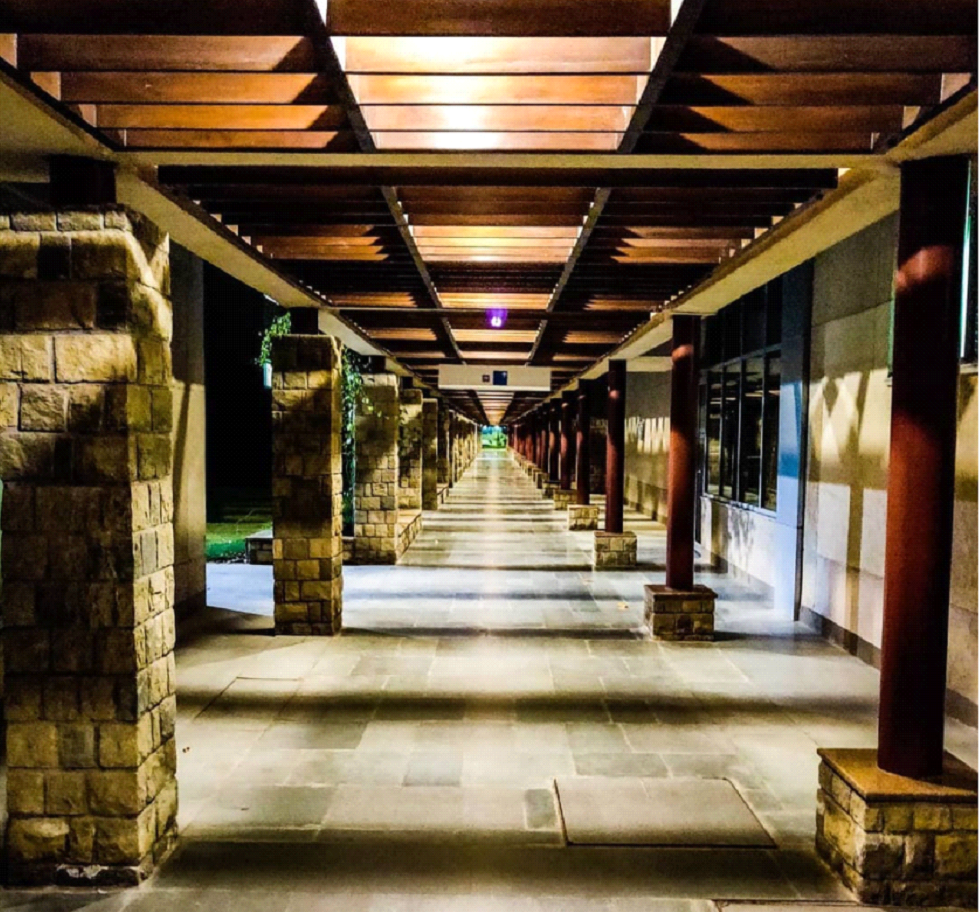 CAMPUS AMENITIES
LRC: ISB understands the importance of a great library and the role it plays in giving a leading edge to academic institutions across the world. For this very reason, The LRC at both Hyderabad and Mohali is iconic as well as futuristic in every sense and caters to both academic and research needs of the students. Hyderabad LRC is housed in Bajaj Auto Library at Hyderabad campus and in the Academic Building (second floor) at Mohali Campus. Both LRCs are completely Wi-Fi-enabled and have multiple meeting rooms, along with a magazine lounge, silent reading room and media room. ISB LRC boasts of over 60,000 printed books, 2500 e-books, 2000 journals and 6800 AV resources!
RECREATION CENTRE: The Rec Centre, as it is popularly called by ISB students, brings together world-class facilities such as fitness centre, swimming pool, badminton court, tennis court, table tennis and squash court. Students often blow the steam off enjoying a game of Pool or Foosball, over and above sweating it out in football and cricket grounds.

The Hyderabad and Mohali Rec Centre also have dedicated in-house salon setups – both for men and women.

LECTURE THEATRES: The lecture theatres at both Hyderabad and Mohali are contemporary and sophisticated, well-equipped with latest AV and video-conferencing facilities such as overhead projectors, LCDs, strong Wi-Fi connectivity, and touch-pad systems. The delicate hanging mics ensure an interactive and enjoyable learning experience in these classrooms designed to accommodate up to 70 students each.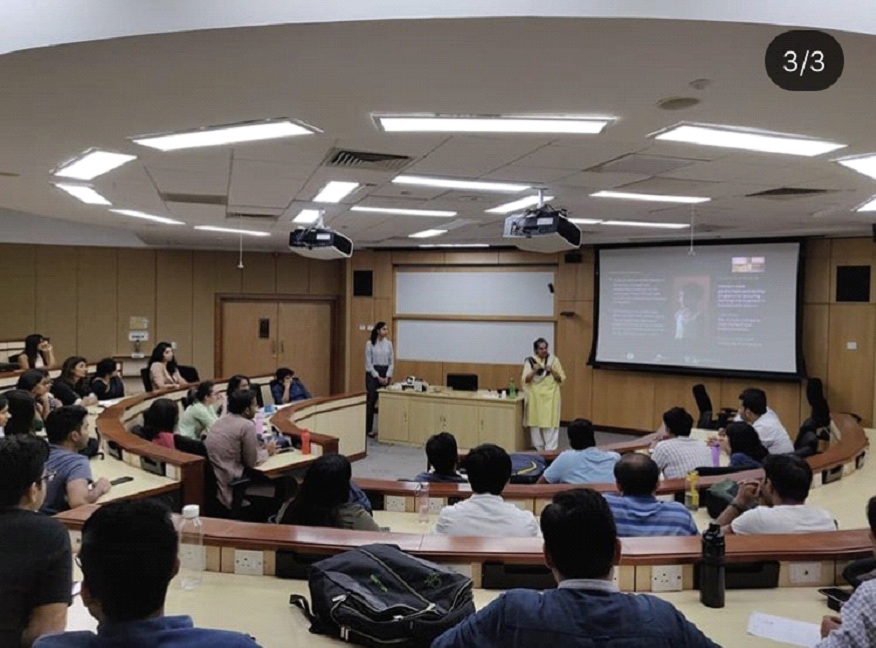 Over and above these amenities, both Hyderabad and Mohali campus also boasts of dedicated yoga rooms, infirmaries, day-care centres, children's play areas and on-campus supermarket/grocery store. Hyderabad campus also has an exceptional music room, while the one for Mohali campus is underway.
ACCOMMODATION
It will not be an exaggeration to claim that ISB is almost as famous, (or maybe even more!) for its accommodation as it is for academic proficiency. A running joke is that ISB PGP is like an MBA at a 5-star resort because of ISB's famous 24×7 on-campus housekeeping service. A student does not have to worry about making their bed or cleaning the room as the moment they are back to their quads or studios after early morning classes, all have already been taken care of by the housekeeping. Ask any ISB alumni what they miss the most about ISB and the answer will be the hospitality and warmth of housekeeping staff.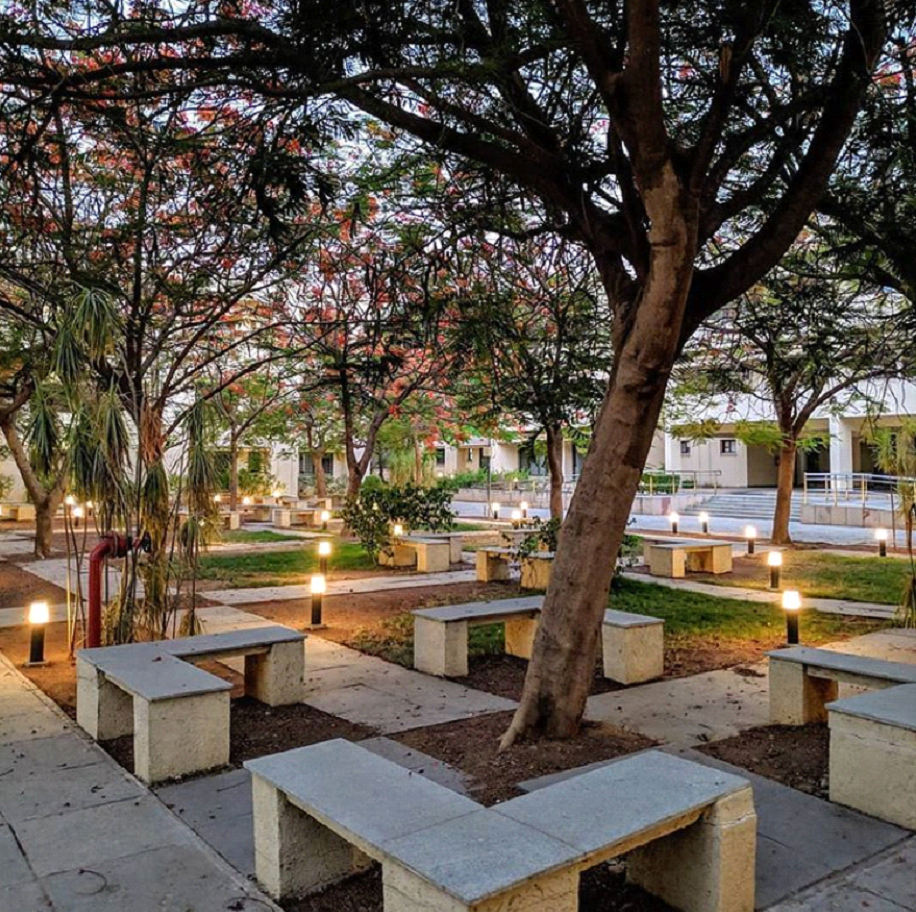 The accommodation at each campus is in the form of Student Villages (ISB version of student hostels) that comprises of both shared and individual accommodations. The shared accommodations are called quads, which are essentially 4 BHKs with fully functional modular kitchens, comfortable common areas replete with flat-screen TV and sofas, 2 bathrooms, spacious rooms with air conditioner, Wi-Fi connectivity, study desks and sturdy bed and furniture. The individual studio accommodations are like 1BHKs, mostly chosen by married students living with their partner and kids.

The Mohali campus, because of newer construction, has more spacious and ultra-modern apartments. At the Hyderabad campus, there are four Student Villages (SVs) to accommodate approximately 600 students and are equidistant in all four directions from the central academic block. On the other hand, the student and faculty residential blocks in Mohali are spread across the campus in clusters. Each SV in both campus also has an independent laundry room with a locker allocated to each student.

Given the fast-paced nature of the residential PGP course, ISB strives to minimize student distraction in non-academic activities and chores and all of these facilities enable the school to accomplish this magnificent feat.
FOOD
Both Hyderabad and Mohali campus has an on-campus food court managed by Sarovar Hotels that offer vast delectable food options at student-friendly rates.
There are also other mini cafés on both campuses. While Hyderabad campus has a Subway, a juice shop, an Amul parlour and a Country Oven outlet, ISB Mohali students have a lot to gloat about with their Café Coffee Day outlet and Juju's – a café open till 4 am every day.

The Hyderabad campus also has provisions to allow registered cooks to work in quads and studios.

With late-night submissions and 24×7 buzz on the campus, Swiggy has emerged as a saviour to students of both Hyderabad and Mohali. Most popular restaurants amongst ISB students on Swiggy are –

Bowl Company, Paradise Biryani, Sardarji's and Istah Shawarma for Hyderabad; and
Shangs, Baba Chickem, La Pinoz and Bowl Company for Mohali.
LOCALE AND GETAWAYS
The locale and getaways are the only real difference between two ISB campuses, and quite honestly beyond the control of school because they are purely geographic in nature.

Hyderabad is a perfect blend of modern life and traditional culture. ISB is located in the newer and more posh part of Hyderabad that has all metropolitan offerings, but students are equally drawn to and even mesmerized with culture-rich old Hyderabad when they visit that part of the city. Hyderabad also definitely tends to a more South Indian food palate, with piping-hot dosas, idlis and vadas being breakfast regulars for ISB Hyderabad students. The Hyderabad campus is at close proximity with leading salons, restaurants, clubs and shopping malls, with B.Dubs, Resign Sky Bar, Fat Pigoen and Inorbit Mall being the most popular.

On the other hand, the Tri-City area of Mohali, Chandigarh and Panchkula also makes Mohali campus the perfect place to spend the most memorable year of one's life. The culture-rich area in Northern Part of India leaves a lasting impression on the minds of the ISB candidates. At the heart of Chandigarh is Sukhna Lake, another attraction of the tri-city, offering peace and tranquillity. One would find several ISBians going there for a jog to rejuvenate post a hectic week at ISB. Unlike large cities, Mohali masters the small-town vibes with clean roads and pollution-free air. Some of the popular hangout places around ISB Mohali campus are Elante Mall, Pal Dhaba, Chawla's, Whistling Duck and Peddlers.

Weather-wise also both cities have their charm. The winters in Hyderabad are not as chilly as Mohali but the summers in Mohali are more pleasant than their drier Hyderabad counterpart.

Popular getaways for ISB Hyderabad students: Hampi, Nagarjuna Sagar, Golconda Fort, Belum Caves, Coorg, Gokarna and brilliant airport connectivity also mean trips to Goa in term breaks.

Popular getaways for ISB Mohali students: Mohali wins this round hands down with proximity to travel wonders like McLeod Ganj, Shimla, Kasauli, Dalhousie, Triund and Kasol.

To reiterate, except cultural and geographic differences, both campuses are identical in academic and extra-curricular experiences. In fact, ISB randomly assigns either of the campuses to shortlisted students using an internal algorithm, which especially focusses on preserving the professional diversity on each campus. Moreover, most teaching faculties are common across Hyderabad and Mohali and ISB also follows a common placement drive process where students from one campus fly to another.