The competition for PGP admission at ISB is increasing year after year. Getting into ISB is not easy until you have a clear application strategy. Thousands of applications are received by ISB every year and a low acceptance rate makes the ISB PGP admissions highly competitive. ISB selected merely 843 candidates for the ISB PGP class of 2023.
Therefore, a guide that tells you how to get into ISB is essential for every ISB aspirant. In this article, we have discussed an 8-step guide to getting into ISB.
8 step guide to getting into ISB
Here is a step-by-step approach to creating a strong well-rounded profile. The image shows a snapshot of the steps to get into ISB.
Admission Eligibility for ISB PGP
These 3 criteria make you eligible for admission to the ISB PGP class of 2022:
You must hold a bachelor's degree or equivalent in any discipline
You must have at least 24 months of full-time work experience as of March 31, 2022
You must have a valid GMAT/GRE score
How to get into ISB in 8 steps:
Introspect your need to join ISB
Do structured research of the programs at ISB
Take a look at the class profile
Analyze ISB admissions committee's expectation from the applicants
Understand the evaluation factors
Analyze your strengths and weaknesses
Create an application strategy
Prepare for the interview
Let's discuss each of these steps in detail:
1. Introspect your need to join ISB
Everyone has a different need to do an MBA at ISB. Some want a career change, some need career growth and some want to take up a family business or become an entrepreneur. So it is necessary to first understand what is your need to join ISB.
Analyze where you are in your career path and where you want to be moving forward. Make a clear short-term and long-term goal.
If you are looking to do an MBA to get a salary hike, calculate the ROI. ISB Placements, check this article to know about the ROI of the PGP program at ISB. Examine how your career growth will be by pursuing MBA at ISB.
2. Do structured research of the programs at ISB
Once you are clear of what your goal is to join ISB, do detailed research of the programs at ISB. The one-year MBA residential program at ISB is a well-received program. Anyone with experience of 2 to 20 years can apply to this program.
However choosing the program according to your need, and balancing your professional and personal life is also important. So, analyze and compare the various programs offered at ISB.
When you do research about the programs it is important to check the following factors
What is the duration of the program?
Is it a part-time or full-time program?
What is the course curriculum?
What are the special features of the program?
What is the faculty profile?
What will be the learning outcome of the program?
What will be the ROI?
Programs at ISB, this article has details about the post graduate management programs offered at ISB.
Let's see what are some of the special features offered for the MBA programs at ISB.
Digital Headstart Module (DHM)
You can be a part of the ISB ecosystem before joining its flagship program PGP through the Digital Headstart Module (DHM). DHM was introduced by ISB in the year 2021 to adapt to the changes caused by COVID-19, which is held virtually for all the students before the beginning of classroom sessions and is a part of the curriculum.
ISB has replaced the first term with a 10-week Digital Headstart Module, the overall course duration still being 52-weeks. DHM comprise of the following:
4 easy-paced, core courses
Independent research project opportunity under Faculty guidance
Learning and career growth events
O-week and LEAD
DHM will ultimately ease the on-campus experience for students, having already inducted them into 4 core foundational subjects and has given ample opportunities to interact and bond.
Experiential Learning Program (ELP)
ELP is a short-term project that falls under the purview of consulting. ISB tends to solicit these consulting projects from a number of different companies (domestic and international) and float it among teams of current students who may be interested in a particular sector or function.
The majority of the ELPs at ISB arrive between the end of the second term and the beginning of the fourth term. Taking up an ELP is equivalent to a two-credit course.
Leadership development program
You can also analyze your personality through the 360-degree feedback assessment tool. You will be given a systematically structured questionnaire for your personality assessment. From the feedback, you can develop your personal goal and strengthen your leadership skills.
Professional clubs
There are many professional clubs run by the ISB community. It gives you the opportunity to apply the classroom knowledge to the outside world. This helps you to strengthen your leadership qualities and life skills. You can connect with students with similar interests and you also get a chance to interact with the alumni and professionals from the respective field which helps to build your career.
After you have done the detailed structured research of the program, choose the program which aligns the learning outcome of the program with your goal to join ISB.
3. Take a look at the class profile
In a recent online session at ISB, alumni from different PGP batches discussed "How can the diversity at ISB add new dimensions to your career?". According to the article, there are three things future applicants should be aware of
Expect the unexpected
With great diversity comes great learning
It is potential not achievement that matters
Diversity creates an impression at ISB. Every class of ISB has candidates from different age groups, with different levels of work experience, with different working backgrounds, and also from different parts of the country and world. Let's take a look at the PGP class of 2022.
PGP class of 2022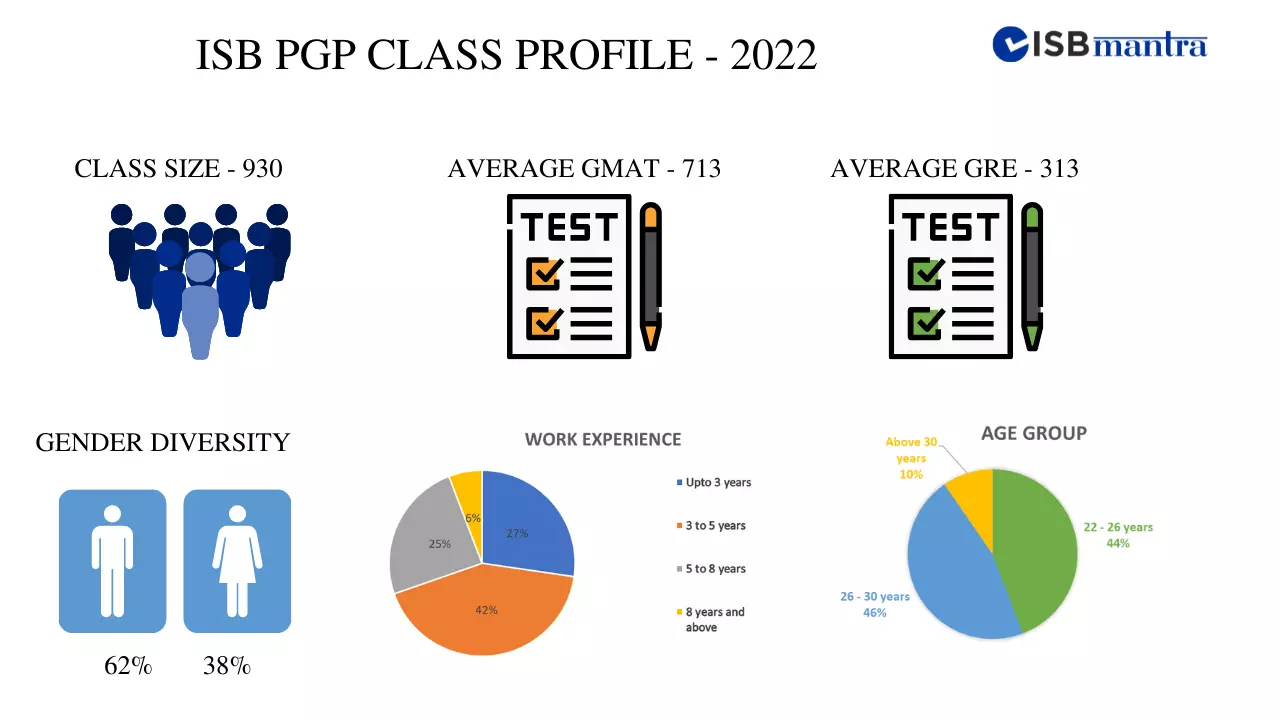 Age group

22 – 26 years : 46%
26 – 30 years : 48%
Above 30 years : 10%
| | |
| --- | --- |
| Work experience | Number of candidates |
| 0 – 3 years | 254 |
| 3 – 5 years | 394 |
| 5 – 8 years | 228 |
| 8 years and above | 54 |
From the class profile, we can understand the classroom has a combination of candidates with different demographics. However, when people from different backgrounds come together, there will be a better understanding of the subject. It also teaches us how to use your strengths in a diverse working environment.
4. Analyze the ISB admissions committee's expectations from the applicants
You should be aware of the admission process and what the admission committee expects from the applicants. The admission process at ISB for its flagship program (PGP) happens in three rounds. It also has two deferred modes of entry – YLP and EEO.
Types of programs at ISB, in this article we have discussed in detail the admission process of each program at ISB.
You can get a clear idea of what the admission committee expects from an applicant by attending the admission events and webinars conducted by ISB.
You have to submit the application online in the ISB application portal. Your application will be evaluated on the basis of certain factors which we will discuss in detail in the next section. Once shortlisted you will be invited for a face-to-face interview. After the interview is done, ISB will release the offers for admission to candidates who have satisfied the conditions for intake, based on profile and performance.
5. Understand the evaluation factors
According to Vikram Singh, CEO & Chief Mentor at ISBmantra, Former Manager, Admissions & Financial Aid, ISB PGP/EEO/YLP, there are four important factors which are considered to decide an admit at ISB – academics, test score, interview performance, and quality & quantity of work.
The weightage of the evaluation factors may vary year on year based on the decision made by the admissions committee.
| | |
| --- | --- |
| Evaluation factors | Weightage in % |
| Academics (from 12th std till undergraduate or postgraduate) | 30 |
| Test score (GMAT/GRE) | 30 |
| Interview performance | 20 |
| Quality and quantity of work | 20 |
6. Analyze your strengths and weaknesses
Once you know what the ISB admission committee expects, you should analyze your profile and understand what are the strengths and weaknesses. As mentioned earlier, the weightage of the evaluation factors is not constant and it varies on a case-to-case basis.
By analyzing your profile, you should be able to figure out which part you should concentrate on to create a well-rounded profile. Let's discuss each section in detail.
GMAT score
Being an ISB applicant, you should be aware that GMAT score is an important factor in the evaluation process. What signifies a good GMAT score depends on the competitiveness of the program and your profile. The average GMAT score for the class of 2021 was 710. So what is the score you need to have which makes you confident of getting an interview invite?
As we discussed earlier 30% of the evaluation factor is the test score. The higher your score is the maximum is the chance of getting shortlisted.
Want to know what is a good GMAT score? Check this article.
Analyze the essay questions
You have to submit two essays along with the application for the ISB PGP program. If you are a reapplicant, you need to submit an additional essay.
Essay topics for ISB PGP 2022 admission
Essay 1: Describe with examples the most important personal quality that you possess, which significantly enhances your prospects of being successful as a leader?
Essay 2: What are your short term and long term career goals? How will the Post Graduate Program at ISB assist you in achieving your goals?
Before writing your essay you need to understand the purpose of it. Your unique personal quality will be identified which will make the admissions committee realize the value you will be adding to the diverse class.
ISB essay analysis, in this article you can find more information about the essay analysis and tips by Sanjay Dhingra, Ex Admission Officer at ISB, Chief Mentor & Managing Partner of ISBmantra.
ISB YLP Essay Analysis, we have discussed the YLP essay and sample essay structure in this article.
Recommendation letter
Another important part of the application is the recommendation letter. You need to submit the details about the person who is going to provide the recommendation (the evaluator) to ISB. He/She will be sent the evaluation form by email and information on how to fill it. The recommender has to provide details about your strengths, weaknesses, leadership skills, and achievements.
This gives an idea to the admission committee of your ability which helps in determining whether you are a good fit for the program. So choose the evaluator who knows you well and helps you in the detailed structuring of your profile.
To know about the ISB letter of recommendation tips and samples, check this article ISB PGP Letter of Recommendation.
The evaluation form has to be submitted on or before the application deadline.
Now that you know what they expect and where you are, you should create an application strategy.
Looking for professional help? 
We have a team of former admission officers who can guide you in the application and interview process. Sign up now.
7. Create an application strategy
"MBA selection at ISB is a holistic process that evaluates an applicant on multiple parameters, some of the primary ones being test score, academic performance, leadership potential, career progression, career goal clarity, and extracurricular participation.

Most successful applicants start preparing at least a year in advance. This includes working on their GMAT or GRE preparation, participating in activities that demonstrate their leadership skills, taking initiatives at work or beyond work, networking with ISB alumni and learning about the school, and above all, researching one's own career goals.

All that one does during this one year, and during one's entire professional and academic career, translates to stories that one can present through the application essays required by ISB. Active development of essays is just the final step into the process. ISB typically requires an applicant to answer two essay questions. Over the years, the first one has been about one's leadership experience and examples, and the second one relates to one's career goals.

Developing rich answers to these questions requires multiple iterations, and allocating anything between 30-45 days may work fairly well for most candidates. Reapplicants, and applicants with higher professional experience, may want to commit some extra time to their application, given the additional work required in presenting the depth and breadth of their experience, and because they are expected to present strong career goal clarity."

Prashant Tibrewal, Founder and Senior Consultant at ISBmantra
Knowing how early you should start preparing for applying to ISB, the next question would be in which round you should apply for ISB. It is always better to apply in round 1 of the application which reduces the stress to wait till the end.
As per the data from gmatclub decision tracker, we understand the number of applications in round 1 is high compared to the number of applications in round 2 and round 3.
| | | | |
| --- | --- | --- | --- |
| ISB PGP class of 2022 | Number of applications | Number of students who got an admit | Conversion ratio (in %) |
| Total | 781 | 210 | 50.1 |
| Round 1 | 506 | 135 | 51.3 |
| Round 2 | 249 | 68 | 47.8 |
| Round 3 | 26 | 7 | 50 |
The conversion ratio is the same for all the rounds, however, it is always better to apply in round 1 which reduces the pressure to wait till the end, and also you will have ample time to analyze if not shortlisted.
Want to create an application strategy?
We at ISBmantra have several applicants who have received an admit with a diverse profile essentially because they created a clear application strategy.
Sign up now to start yours.
Here are a few case studies for you to understand our service better.
Case study 1: Shreya's application strategy with an IT profile and a low GMAT score
Shreya Ganguly is a computer engineer who graduated from Jadavpur University and has 4 years of experience in IT. But she aspired to change her career to product marketing and that's why choose to join MBA at ISB.
She said "Understanding why you want to do an MBA is the first step. Not everyone wants to do an MBA only for a salary hike."
In sharing her experience she said creating an application strategy by showing her work other than academics, being confident of what she wrote in essays helped her crack through the admission.
In spite of having a low GMAT score of 690, she got an admit to ISB as she started building her application well ahead of time, started networking with the alumni and took professional help for evaluation.
Case study 2: Ritika's strategy for ISB application and interview
Ritika Bandale is a NIFT (National Institute of Fashion Technology) graduate and has diverse work experience of 3 years mainly in the field of content writing and advertising. She shared her experience of how her drawback of working in different organizations for a period of 3 years changed into an advantage for her by getting exposure to different fields in a few years.
She said, " not being honest, not knowing the learning outcome of the program, not having a clear goal and not being able to enhance her strengths at the interview were the reasons for not getting an admit in the first attempt."
But that didn't stop her from trying. She did better research, attended the info sessions conducted by ISB, understood her strengths and weaknesses, made a clear career goal, and took professional help from ISBmantra for interview preparation.
While sharing her experience she said how ISBmantra helped her prepare for the interview by providing her with personalized questionnaires, feedback for the responses, and inputs to enhance her profile the best.
8. Prepare for the interview
Once you created an application strategy and successfully submitted the application, start preparing for the interview well in advance.
Power packed interview packages
We can provide complete support during interview preparation through our power packed preparation module and mock interviews.
Though they have an idea of your ability through your application, the interview helps them to know you better. The interview performance has a weightage of 20%. Even if you don't have a strong profile, your performance at the interview can help you get an admit to ISB. So make sure you prepare well. It is important you are confident of what you have mentioned in the application & essays and it is also important to know what to say? what not to say? and how to say?
ISB interview, in this article we have shared important interview tips and interview questions by A M Kannan, Ex ISB Director, Admissions and Financial Aid, Senior Mentor at ISBmantra.
ISB interview experience, from this article you can understand what type of questions will be asked for different profiles.

Following the above steps whether you are a first-time applicant or reapplicant will definitely give you the confidence to get an admit to ISB.
We love giving free advice
Submit your profile now to get free profile evaluation.
FAQs
What is the cost of an MBA at ISB?
The full-time MBA program (PGP) costs approximately INR 33,14,620 (including GST, tuition fee, and admission fee) for shared accommodation and INR 34,26,720 (including GST, tuition fee, and admission fee) for studio accommodation.

What is DHM?
Digital Headstart Module (DHM) was introduced by ISB in the year 2021, which is held virtually for all the students of PGP before the beginning of classroom sessions and it is a part of the curriculum. 

How to get into ISB?
Here are the steps to get into ISB
1. Understand your need to join ISB
2. Do structured research of the programs at ISB
3. Understand the diversity of the class
4. Know what the admission committee expects from the applicants
5. Understand the evaluation factors 
6. Analyze your strength and weakness
7. Create an application strategy
8. Prepare for the interview