If you are into a family business and looking to take it forward, joining ISB's PGP MFAB (Post Graduate Programme in Management for Family Business) will add value to your business. Let's discuss how.
According to Prof. Kavil Ramachandran, Executive Director, Thomas Schmidheiny, Centre for Family Enterprise " PGP MFAB is a customized MBA program for the medium sized growth oriented family business. It is a modular program which means you don't have to spend an entire year or so at the campus. Whatever learning happens in the class, you can try immediate application to your business and you adapt the program according to your requirement. This will help you grow and transform your family business."

Advantages of joining PGP MFAB
By joining the MFAB program you will have life long learning experience
The program will deliver specific insights on expanding your family business
It will make you a better leader
As an alumni you will have opportunity to audit the MFAB course
You can participate in conference and seminars covering diverse topics of marketing
You can attend the workshops conducted for various topics by renowned speakers.
Now that you have an idea of how MFAB is going to help you grow your business, let's check what is the duration of the program and how you will be able to balance between working and attending the class.
The duration of the program is 15 months. Classes are conducted for about 7 days, every 6th week, enabling the participants to strike the right balance between learning and application.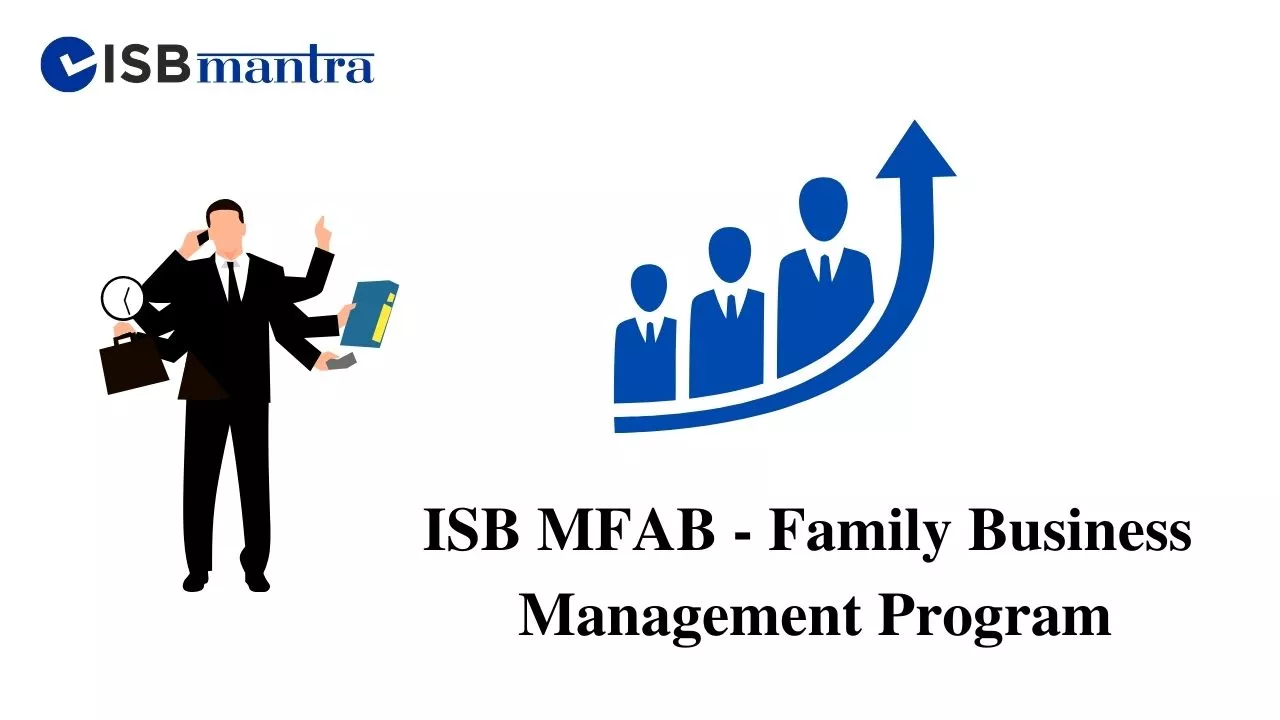 PGP MFAB Program highlights
| | |
| --- | --- |
| Duration of the program | 15 months |
| Type of program | Modular |
| Location | Hyderabad and Mohali |
| Application fee | INR 15,000 |
| Course fee | INR 41,98,000 |
The unique features of the MFAB program at ISB are:
Cutting edge curriculum
Real scenario simulations
World-class faculty
Networking with C-suite peer group
Two weeks of International immersion
Learning with minimal disruption
Learning outcomes of the program
Through this Family Business Management program, you will develop the following skills which will help to enhance your business further.
Global awareness
Ethical responsibility
Leadership skills
Creative thinking
Class Profile
ISB PGP MFAB class is young (70% students aged < 24 years), having 65% of students with less than 3 years of work experience (ranging from less than INR 50 cr to over INR 1000 cr), from different industries like manufacturing, construction, real estate, fashion, Automobiles and more.
Eligibility criteria and requirements
The following are the eligibility criteria to enroll to the PGP MFAB:
Bachelor's degree or equivalent qualification
Work experience is not mandatory. However, having experience of 2-3 years adds value to your profile
You should be a member of family business with an intend to carry it forward
You should attend the Business Admission Test (BAT) at the final stage of admission.
Business Admission Test (BAT)
BAT is an assessment test for business education programs. Through this test, your analytical thinking will be analyzed. The fee for the BAT exam is included in the application fee.
You can take this test online. You will need an identification document (ID), a good internet connection, and a webcam to attend the test online.
PGPMFAB Application deadline
You can apply for the MFAB program at ISB in either round 1 or round 2. Here are the deadlines for both rounds of application.
| | | | |
| --- | --- | --- | --- |
| Program | Location | Round 1 | Round 2 |
| PGPMFAB | Hyderabad, Mohali | November 05, 2023 | March 19, 2024 (Tentative)  |
Application fee
You have to pay the application fee when you submit the application online. This fee is non-refundable. The application fee includes the cost of the Business Admission Test (BAT).
| | | |
| --- | --- | --- |
| Program | Round 1 | Round 2 |
| PGPMFAB | INR 15,000 | INR 15,000 |
Application Process
You have to submit the application online along with the scanned copy of the following documents.
Color photograph
Passport photocopy (first and last page)
12th marksheet or transcript
Marksheet or transcripts of Bachelor's degree and additional education (if applicable)
Bachelor's degree certificate
Certificates of additional education (if applicable)
Business card
You have to write the following details and essays for the MFAB application.
Family Business Info
Please describe the roles, responsibilities of the family members involved in managing the business. (max 500 words)
When was your business started and what have been the important milestones in the business. (max 300 words)
Employment Details
Describe the department/organizational unit for which you are responsible. Relate it to the whole organization in terms of size, scope, and autonomy of responsibility. What human resources, budget, and capital investment are you responsible? (Maximum 300 words)
What are the short-term and long-term goals of your business and how do you envision your role in the organization? (Maximum 300 words)
Essays
Essay 1 : Why do you intend to pursue PGP MFAB program? (500 words max)

Essay 2 : Describe an important initiative that your business has undertaken during the past 5 years. Explain why you consider it important. You may share an initiative taken by your company even if you were not necessarily involved or associated with it. (500 words max)

Essay 3 : According to you, what are the main challenges faced by your business and how would you address them? (500 words max)

Additional Essay : Please use this space to highlight anything you wish to bring to the notice of the admissions office/admission committee which could not be highlighted in any other part of the application. Examples of things to list here would include explanations for gaps in work or education, inconsistent or below average academic performance. Use this space to also highlight work and non-work related awards & achievements which you feel would add value to your application.
Apply now for the intake of August 2023 to MFAB at ISB.
Best PGPMFAB consulting service
We at ISBmantra powered by a team of former ISB Admissions Officers, are in a position to provide you with matchless consulting services.
Please feel free to contact us for any queries.
ISB MFAB Essay Analysis and Guidelines
The ISB MFAB is a unique program delivered by ISB, to help young entrepreneurs develop their skills in growing their family businesses. The application process is extremely extensive, designed in a way that it thoroughly tests the applicant's involvement in the business, the future plans of the business and the applicant, and the applicant's need to pursue the MFAB.
In the following sections, the ISBmantra team of Former Admissions Officers from ISB, presents to you some important insights on building a strong application and sample essay guidelines for each of the essays asked in the ISB PGP MFAB Application 2022.
Family Business Info
This section contains two essay type questions. The first question seeks to understand the involvement of other family members in the business. Since there is another question where you will be required to explain your role in the business, you may limit the answer to this question to the family members only.
List each family member who may be involved in the business and provide specific details about their role and contribution. It may not be a bad idea to also add which members you work closely with. If your business has a Board of Directors, who may be outside the family, feel free to add that information and the composition of the Board.
The second question relates with understanding the journey of your business, from its inception to the current state. Try and break the journey into important milestones, presenting the timelines and what makes each milestone significant to the business.
Employment Details
This section contains another two essay questions focused on you, your role in the business, and your future plans. This is one of the most important questions in the application, to help the admissions team understand your contribution to the business, the department and function you may be involved in, teams you may be leading or collaborating with, internal and external stakeholders that you work with, the budgets you are responsible to manage, etc.
The admissions team understands that you may not already be leading teams or budgets if your association with your business hasn't been long enough, but it is important to demonstrate clear engagement instead of presenting a vague set of responsibilities.
The question about the future goals is as much about your business as about you. As a business owner, you are expected to have some plans for your organization or at least your department. If possible, show how you are not just looking to grow your current business, but also add new dimensions in terms of diversification, market expansion, new partnerships, etc. Further, provide specific details about what role you plan to play in these areas.
Main Essays
This is the most demanding section of the application, with three large essays, and an optional essay to be submitted. Having presented your future plans in one of the previous essays already, the first essay in this section can be used to build on what you have presented.
Pick different areas of growth and expansion and how specific opportunities at the MFAB program will help you in that context. Identify skills, areas of knowledge, and network that you seek to gain, and the opportunities at the MFAB program that will allow you to gain them.
The second essay is about an initiative that your business may have taken in the last 5 years. It's not important that you were involved in the initiative, but how you explain the initiative and your understanding of why the initiative was important will help the admissions team learn more about your knowledge of your business.
The third essay is about the primary challenges that your business faces, and if you are really involved in your business, you will be able to spell them out in precise terms. Challenges may be related to the current process, stakeholder management, industry dynamics, scalability, organizational culture, or even your own assessment of the hurdles to the growth of your organization.
Thereafter, you will need to communicate how you plan to address these challenges. While you may have some understanding of how a few of these challenges may be addressed, it's ok to admit that there are some challenges that you are still looking to understand better as you try to figure out the solutions, and that the MFAB program will come as a crucial opportunity in this regard.
The optional essay may be used to explain gaps in work or education, inconsistent or below average academic performance or achievements and accomplishments that you think deserve more detailing.
Overall, the MFAB application is among the most challenging applications among all the programs at the Indian School of Business, ISB. Start your application at least 30 days in advance and ensure you commit enough time to developing a strong set of essays that communicate your strengths and future plans well – relating them to the need for a post graduate program such as the MFAB.
We at ISBmantra love giving free admissions advice.
Sign up now for free profile evaluation.
Selection Criteria
Your profile will be evaluated based on the following criteria
Knowledge of family business
Business leadership potential
Inclination towards achievement
Legacy of business
Academic performance
BAT performance
Professional experience
Interview performance
Fee Structure
The total fee for the MFAB programme at ISB is INR 41,98,000. Here is the breakdown of the fee structure:
| | |
| --- | --- |
| Particulars | Amount (INR) |
| Admission fee | 3,00,000 |
| Tuition fee | 38,98,000 |
| Subtotal | 41,98,000 |
| Alumni fund contribution | 25,000 |
| Security deposit (Refundable) | 20,000 |
| Library and recreation center lifetime access fee | 15,000 |
Here is what our team members, who had been a part of ISB admissions team speak about how we could help you to get an admit at ISB.
 Feel free to explore our services or connect with us.