A crash course in consulting, ELP offers an unparalleled experience in gaining industry-level insights while working at the grassroots level to solve pressing issues
"Knowledge is of no value unless you put it into practice",
Anton Chekhov said it best, more than a century ago! And with geniuses like Albert Einstein also advocating the merit of practical learning, the most premier academic institutions across the world took note and strived to put together a more comprehensive curriculum.
In line with other global b-schools, Indian School of Business also stands at the forefront of reinforcing this age-old adage with its Experiential Learning Programme (ELP) offering.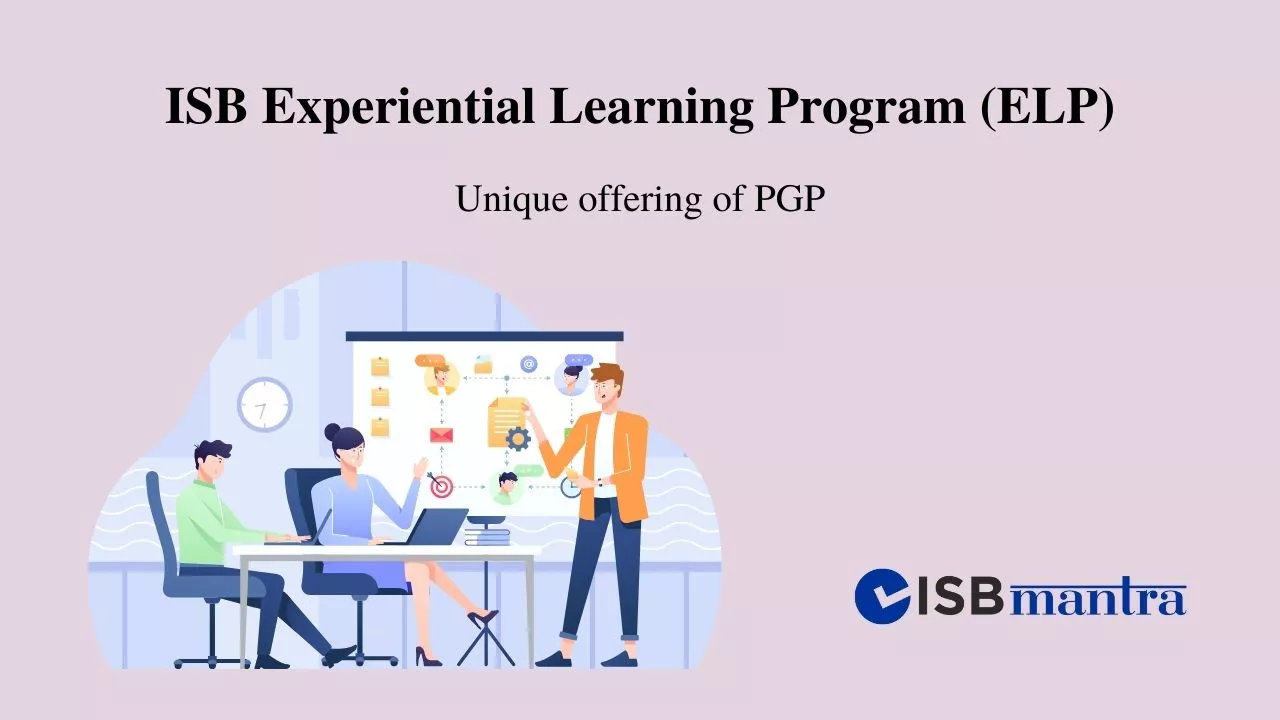 WHAT IS ELP?
One can interpret ELP as a short-term consulting project taken by students in groups of 3-4 to help companies solve pressing problems across functions like customer acquisition, expansion, operations, supply chains amongst others. It is more strategic in nature, with companies executing the plan internally post approvals.
ISB, with its uniquely premium status in the Indian corporate world, attracts these projects from a wide spectrum of companies, both industry bigwigs and booming startups! These projects are then presented to students in two batches – once around the end of term 2 and then again around the beginning of term 4.
Key objective of ELP is to enhance the learning ISB students can extract out of the fast-paced one-year PGP. It is a win-win situation for both parties as students get to learn from the real life applications of core concepts learned inside ISB classroom, while the companies get to benefit from the expertise and creative problem solving approach of the best young business minds of the country.
APPLYING FOR AN ELP
ISB has partnered with over 450 companies and successfully delivered on 800+ projects since 2004, and so goes without saying that students have a wide offering to choose from every year.
Once the ELP list is introduced, the first step is team selection. Interested students organize themselves in groups of 3-4 depending on common interest in pursuing a particular ELP. This step is extremely crucial as the combined expertise and diversity of the team often becomes an evaluation criterion for companies
Students are then required to submit an Expression of Interest (EOI) in a standardized ppt format to companies for consideration. The EOI includes and elaborates on details like background of the team members and problem-solving approach they plan to undertake. A series of intense discussions along with primary and secondary research goes into preparing this EOI document
The shortlisted teams are invited for an e-interview by the clients before finally announcing the winners
The teams that win the ELP are matched with a faculty advisor who guides them through the course of the project.
IMPORTANT THINGS TO KNOW
While extremely interesting in concept, ELP comes with its fair share of advantages and disadvantages. Compiled below are a list of important things to keep in mind while making the decision to apply for an ELP
ELP costs each of the participating students (if they win) 250 bidding points from the virtual kitty of 4500 points and qualifies towards 1 credit in term 6, thus requiring competition of only 17 elective courses instead of regular 18 through Term 5 – Term 8
Students who take ELP, work around tight deadlines mutually agreed upon with the client in a signed charter, putting in close to 150-200 manhours over a 5-month period from July to November. They are required to ensure satisfactory completion of the project along with managing their regular coursework, exams, and extra-curricular commitments
ELPs come with a massive upside of a possible shot at Pre-Placement Interview (PPI) or Pre-Placement Offer (PPO) by the partner company if students manage to create an impact
The real-world learning edge offered by ELPs is unmatched – getting to work on the grassroots level to solve real problems arm students with a stronger professional perspective
Some ELPs may also involve a 10-day travel to project site/client office during a dedicated ELP-week, further allowing the students to strengthen their relationship with the client
About ISBmantra
With a strong focus on ISB and a team of Former ISB Admissions Officers onboard, ISBmantra offers personalized Application Consulting & Interview Prep services. Feel free to send your profile to info@isbmantra.com for a free profile evaluation.