The Indian School of Business (ISB) is one of the leading business schools in the world. ISB PGP is a full-time program with an intake of about 900 students, with entry channels through the Early Entry Option (EEO) and the Young Leaders Program (YLP). Further, the school offers a wide range of executive and part-time programs including the PGPpro, PGPMAX, and the MFAB. ISBmantra has been mentoring applicants to all these programs since 2012 with a high selection rate.
Getting into ISB requires far more than work experience or a GMAT score. The admissions committee focuses on the qualitative components of your application. Essays and SOPs are the key factors in helping them understand how you will benefit from the program and how you will contribute to the class. Eventually, ISB is looking to prepare future leaders who exhibit passion and purpose in their career paths.
But how do you ensure that you put your best foot forward when applying to the competitive business programs at ISB? How do you highlight your strengths and work on your weaknesses? How do you respond to the frequently asked ISB interview questions? The experienced team at ISBmantra helps you navigate all these questions and challenges to gain an edge over your competition.
Before we dive deeper into how ISBmantra helps applicants and why ISBmantra has the best success rate at ISB, let us first discuss how competitive is the full-time PGP at ISB.
How difficult is it to get into ISB?
ISB receives applications in the range of 4000 to 6000 every year. With a class size of 900, the acceptance rate varies in the range of 15-20%.
There are six important factors that are considered in the ISB application – academic scores, professional experience, extracurricular activities, essays, GMAT score, and letter of recommendation. Not all applicants are able to present their strengths in all of these components. An experienced ISB Application Consultant like ISBmantra can help you enhance your application by helping you understand how you can compensate for your weak areas and build on your strengths. Let us, therefore, understand how an application consultant can help.
If you are looking to develop a personalized and strong application for ISB, ISBmantra is the best consulting company to approach. At ISBmantra, I worked closely with former admissions officers and ISB alumni to gain specific inputs on my application. My interview preparation was thorough and extensive and allowed me to develop an understanding of the different kinds of questions that I could be asked. The team is experienced and committed to your success. I would highly recommend ISBmantra as the best admissions consultant for ISB.
How do Admissions Consultants help?
Admissions consultants generally help you out in 7 ways:
Profile Building
Application Strategy
Career Goal Clarity
Storyboarding
LOR Planning
Application development
Interview Preparation
Profile Building
There are multiple components to an applicant's profile. A strong personal story, academic scores, leadership roles in college, professional experience, additional courses undertaken, initiatives outside work, etc. are just some of the examples of areas where an experienced admissions consultant may help.
Application Strategy
There is no standard formula for making it to a top school like ISB. Each applicant is unique and every profile demands a unique and personalized application strategy. An applicant with less professional experience may need to touch upon their internships and initiatives at work, whereas, someone with high work-ex must present well-demonstrated leadership capabilities. Similarly, one's application strategy may vary based on industry, function, academic scores, and even future goals.
Career Goal Clarity
It is important to have a clear plan post-MBA while applying to a business school. Many applicants have only a vague idea about their future goals, industry, and function. The role of an application consultant becomes critical in helping an applicant dive deeper into their plans, research their goals, and gain good clarity about their desired industry and role before committing to the same through the application.
Storyboarding
Presenting your profile well is as important as having a good profile. Strong applicants often have a strong story, with multiple facets to their experience. The application often allows limited scope and space to present one's story. Further, for the admissions team, it can become extremely repetitive and mundane if you do not put in enough effort to present your story in an interesting manner. The role of the consultant becomes increasingly important in helping to build an application that's coherent as well as impressive.
LOR Planning
The Letter of Recommendation is an additional opportunity for applicants to allow the school to learn more about their skills, achievements, and quality of experience. The choice of recommender, therefore, becomes extremely important. Further, prepping the recommender well and helping the recommender understand the importance of providing detailed examples in the recommendation is also an essential step that the admissions consultant can help plan.
Application Development
Beyond the essays, ISB also allows applicants to provide a good amount of details through the application form. For each job role, the applicant needs to add the details of the organization, initiatives, and achievements. This is a good opportunity to impress the reader by objectively presenting your work responsibilities, initiatives, and achievements. The application provides further scope to touch upon your extracurriculars, interests, and hobbies. A well-packaged application doesn't just reflect your commitment to success at ISB admission, but also your ability to communicate your strengths well.
Interview Preparation
The interview is the final step in the ISB admissions process. Having crossed a big hurdle by having received the interview invite, you do not want to leave any stone unturned to ensure that you are well-prepared for the interview. Practice sessions with your consultant can make a huge difference in understanding the kind of questions you may be asked, and developing the right answers to these questions.
A consultant would guide you in building a strong application, but choosing an inexperienced consultant can also be counter-productive. It is important that your consultant has put in enough hours and years to be able to guide you through your application.
With so many ISB admissions consultants claiming unbelievable success rates, how should you go about choosing your consultant?
How to choose the best ISB admissions consultant?
Identifying a good consultant for your ISB application can have a very different process from choosing a consultant for other programs in India or abroad.
The ISB selection process is unique for 5 key reasons:
A primarily Indian applicant pool, hence a more pronounced need to differentiate yourself from the typical Indian applicant
The large class size of 900 makes peer learning significantly important
The 1-year duration of the program makes it academically rigorous
Placements starting 6-8 months after the start of the program demand that applicants have fair clarity about their career plans at the time of applying to ISB
The need to add breadth to your application, given that a typical ISB applicant doesn't have a high level of engagement outside the workplace.
The following six are some of the factors, therefore, that you should consider while researching consultants for your ISB application:
Presence of Former Admissions Officers on the team
Number of ISB alumni consultants from different backgrounds
The exhaustiveness of the Application and Interview Services
Level of personalization to help present "your" story
Number of years of service and past success
Authentic reviews on neutral forums instead of unverifiable written testimonials on one's own website
Before you start working on your ISB application, therefore, you may want to indulge in thorough research about the consultant you would like to work with and thereafter, trust your consultant to provide you with authentic mentorship.
ISB Admissions Consulting Fees
Given the high subjectivity to the extent and quality of mentorship that a consultant may provide for your ISB application, it is difficult to place a standard monetary value on the service. It is also not feasible to compare the consulting fees of two consultants or consulting organizations, since they may differ significantly in their experience, quality of advice, and commitment to your success.
While there is no "MRP" to the years of experience a good consultant may add to your application, it's interesting to note that the ISB Fees for PGP, PGPpro, PGPMAX, and MFAB range from INR 35-40 lakhs. An experienced consultant charging between INR 35,000 to 40,000 makes you spend about 1% of your MBA fees to ensure that you have an application that is strong enough to get you an entry into ISB, in the first place.
Similarly, the average salary through the ISB PGP, based on the ISB 2022 placement report, is INR 34 lakhs. Relating it to the fees of INR 35,000 to 40,000 charged by most experienced ISB Admissions Consultants, again makes it approx. 1% of the average compensation post ISB.
Why is ISBmantra the Best ISB Admissions Consulting Company?
ISBmantra is the best ISB admissions consulting company with more than a decade of experience in mentoring candidates to apply to ISB for the different programs offered by the Indian School of Business (ISB). ISBmantra is the most recommended service for ISB PGP, EEO, YLP, PGPpro, PGPMAX, and MFAB.
Following are the reasons for ISBmantra being consistently rated the top admission consulting firm for ISB:
Former ISB Admissions Officers in the Team
Mentor-Consultant-Editor Model
Strategy Session followed by detailed Brainstorming Sessions
Unlimited Essay Reviews
Personalized Interview Coaching with 50% Moneyback
I approached ISBmantra with a low GMAT and 7 years of experience. My primary challenge was to present my relatively high experience well and justify my abilities despite a low GMAT. I worked closely with a consultant who was an ISB alum and from the same industry as me. With detailed discussions and multiple iterations, I put in a strong application, which gave me a lot of confidence during the interview. My essays were further reviewed by an ex-adcom member, after my consultant and I had finalized our drafts. My experience with the team was extremely enriching and I would strongly recommend ISBmantra as the top admission consultant for ISB.
Former ISB Admissions Officers in the Team
ISBmantra is the only company with 4 former ISB Admissions Officers on the team. This brings to the team a strong ISB focus and mentorship from individuals who have reviewed and rated real ISB applications as part of the ISB admissions team. The ex-admissions officers have also conducted thousands of real ISB interviews while conducting the admissions process for ISB. Watch the below video to know more about the ISBmantra core team or visit this page for the details of the ISBmantra Core Team.
Mentor-Consultant-Editor Model
Each application at ISBmantra goes through a 3-level quality check to help candidates develop an application that is nothing less than perfect. A mentor or a former ISB Admissions Officer starts with a Strategy Session, post which the Consultant works closely with the applicant to develop the application. The final application is further reviewed by a language expert to add the finishing touch.
Strategy Session followed by detailed Brainstorming
Candidates aren't expected to have developed their essays already before they approach ISBmantra. The process starts from scratch with the strategy session to set the larger context for the applicant. After the strategy session with a former admissions officer, the applicant takes multiple brainstorming sessions with the consultant to understand the key skills and qualities along with the best examples to be presented through the application.
Unlimited Essay Reviews
After the applicant develops the essay drafts based on the initial brainstorming sessions, the consultant and the editor provide multiple reviews of the essay, till the team is convinced about the quality of the essay.
Personalized Interview Coaching with 50% Moneyback
ISBmantra applicants go through a rigorous interview preparation module that involves 3 mock interviews and 2 counseling sessions. The sessions are conducted by former admissions officers and ISB alumni to expose the applicant to a wide range of questions that may be asked in the final interview at ISB. The counseling sessions help the applicant in developing a strong interview strategy and a solid approach to tackle different kinds of questions that are asked in the ISB interview. This interview service also comes with a no-questions-asked 50% money back if the applicant doesn't receive admission from ISB.
ISBmantra Reviews and Testimonials
Our candidates love our process because it helps them get into ISB. Here is what ISB admits have to say about ISBmantra.
YouTube testimonials
Here are a few of the many people we have helped get into ISB. Take a look at the ISBmantra YouTube channel to learn from more successful candidates.
ISB Admit with Non-IT background
ISB Admit with IT background
ISB Admit with Non-IT background
ISB Admit with IT background
ISB Reapplicants
Ankur who switched paths from electrical engineering to software reveals how he justified this decision in his ISB application by highlighting his achievements.
ISB YLP
Quora Testimonials
Tushar Sharma
Here is the link to Tushar's Testimonial for ISBmantra
Agrima Agarwal
Here is the link to Agrima's Testimonial for ISBmantra
Samarth Agarwal
Here is the link to Samarth's Testimonial for ISBmantra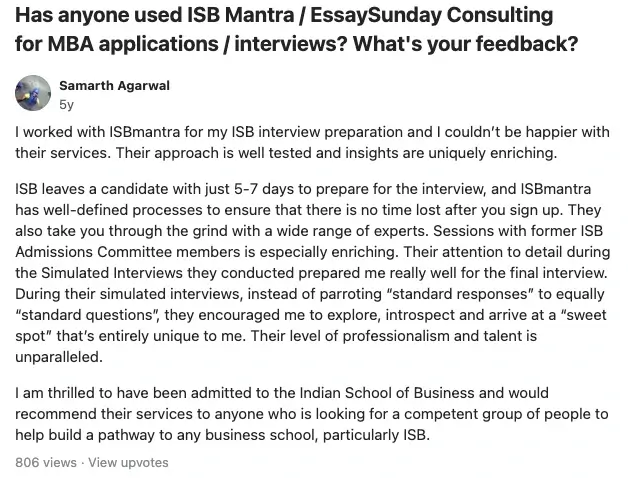 Prateek Bhargava
Here is the link to Prateek's Testimonial for ISBmantra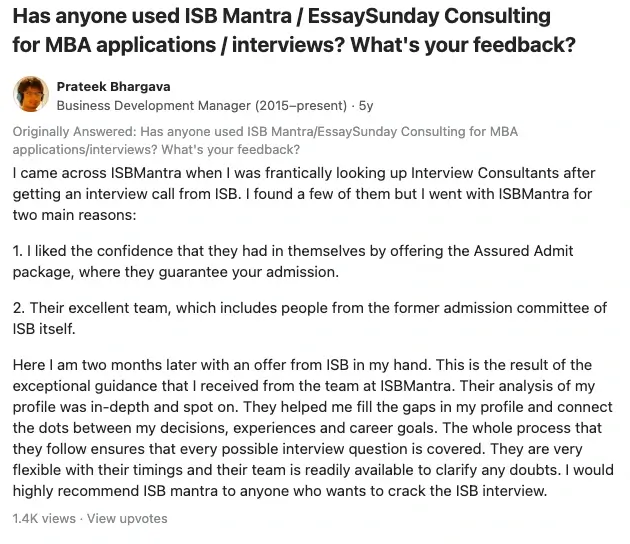 Mrudul Shah
Here is the link to Mrudul's Testimonial for ISBmantra
Aditi Singhal
Here is the link to Aditi's Testimonial for ISBmantra
Google Reviews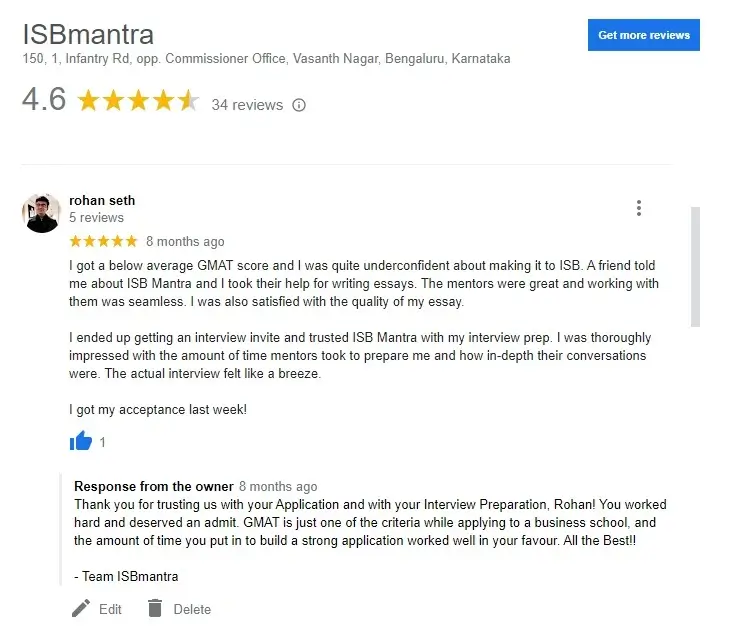 For more questions and free profile evaluation, mail us your profile to info@isbmantra.com and check out our ISB Application and Interview Consulting Services.
Sign up now for free profile evaluation from Former ISB Admissions Officers